Printed Circuit Board Production
of Prototypes in Germany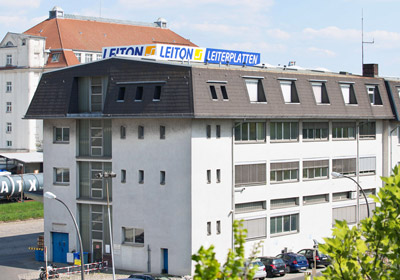 LeitOn manufactures printed circuits up to 24 layer multilayers with currently around 30 employees in Berlin, Germany. In recent years there has been a high investment into most modern machines and technologies.
An intensive process-layout analysis in 2011 has lead to major changes in the production including intensive constructional changes in the building itself. Over 90% of the existing machinery has be relocated from its former position, so that the transportation ways of printed circuits has almost cut in half. Today, LeitOn produces PCBs in a strictly optimized and controlled process which has been developed explicitly for seamless express prototype production. Below you can read about the most interesting machines and processes at LeitOn that allow us to produce your PCBs at the highest quality level.
Materials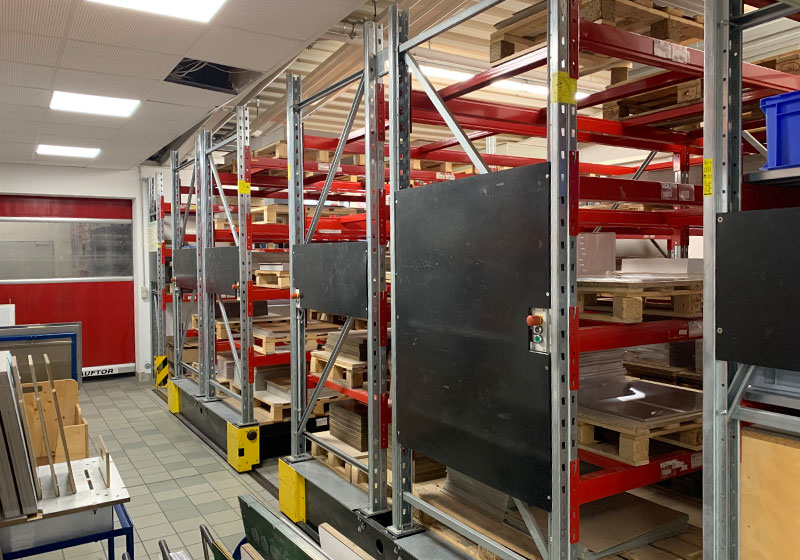 Additionally, we possess of a very well equipped special base-material stock that far exceeds standard FR4 materials and includes some exotic and hard to come-by materials. We do have almost every possible material thickness on stock, each with a variety of different copper cladding. Different types of Rogers high-frequency materials as well as Bergquist or Polytherm IMS aluminium base materials are on stock. For mutlilayers we use Panasonic materials with a TG of 150°C.
High-TG Materials like P96 (TG 260°C) and other Isola and PCL-materials are available, totalling around 250 different materials. If it happens that we do not have the required material on stock, we will get it for you.
Mechanical Processes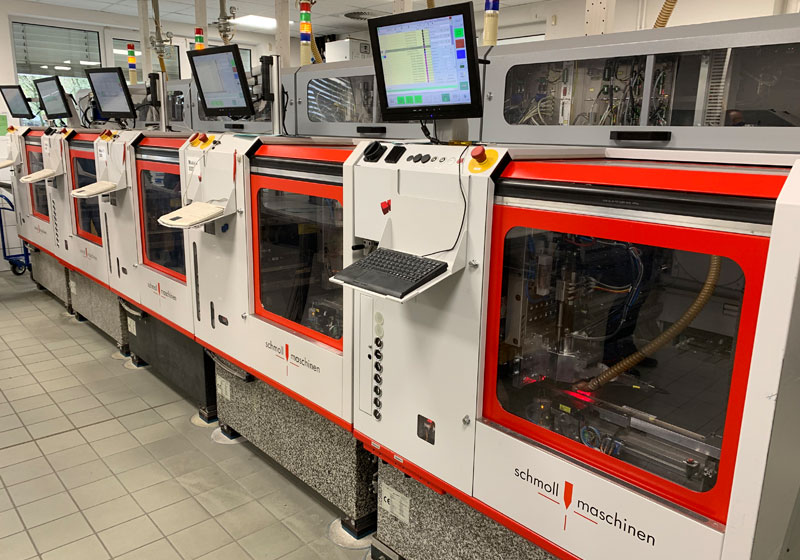 For mechanical CNC-drilling LeitOn possesses two modern Schmoll-Cube drill machines, built in 2010 and 2013. Camera systems allow high-precision drilling. A digital Z-axis measurement system assures exact depth for blind-vias in multilayer PCBs. Both drilling spindles are working at up to 188.000 RPM and automatically adjust speed, plunge and retract according to the selected material. This allows a perfect drill quality. Automatic loading an unloading ensure a high output and cost-optimized overnight drilling. One machine does have a second spindle that allows high accuracy routing. While most other companies use older drill machines for routing, this 2013 built machine combines highest precision measurement systems to make routing as precise as a 0,10mm drill.
Through-Hole-Plating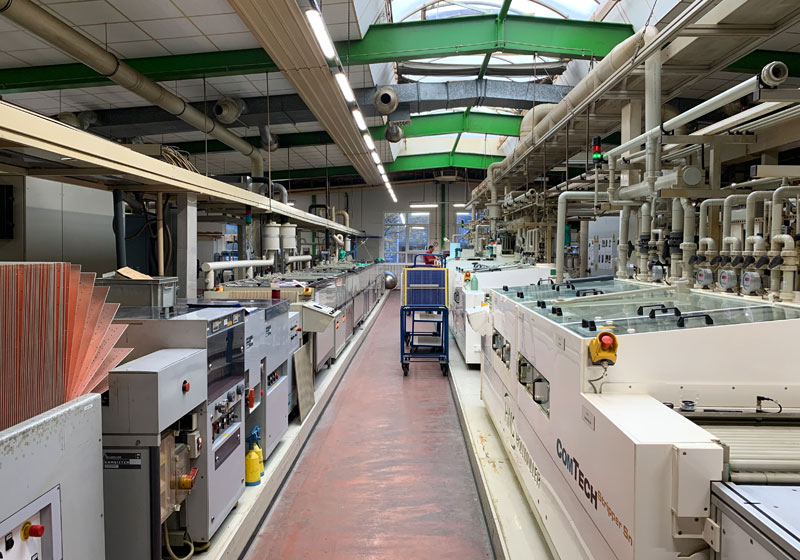 For through-hole-plating LeitOn designed a 20 meter long horizontal line, consisting of three main processes. First all printed circuits are scrubbed to remove any burr from drilling and to roughen the surface for better resist adhesion. Then all boards are going through a "desmear" process that etches back epoxy inside the holes which may have "smeared" over the copper connections.
In many companies this process is only used for multilayers but at LeitOn also double-sided PCBs run through this process to assure 100% connectivity of every via. After ultra-sonic cleansing and surface micro-etching the boards are through-hole-plated in the "black-hole-process", using environmentally friendly carbon particles..
Direct Imaging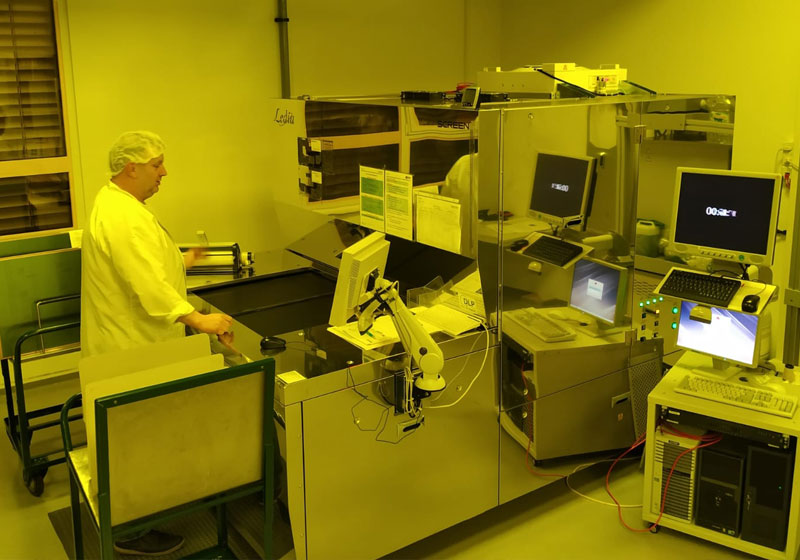 The year 2014 built Apollon-DI-A11 direct imaging system of the Swiss company PrintProcess exposes copper structures directly onto the resist without using films. This process preserves the environment and saves time - always critical in PCB express manufacturing. Furthermore, it allows imaging structures of down to 0,025mm (1mil) and automatically scales the image according to the drill pattern - eliminating drill-offsets almost entirely.
A clever front-to-back alignment system for undrilled inner layers eliminates layer offsets almost entirely so that we can build HDI multilayers up to 24 layers.
Copper Plating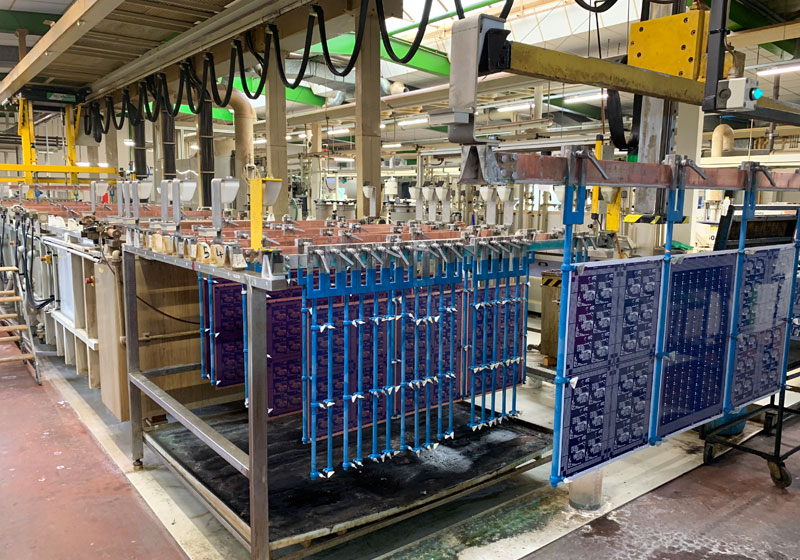 Copper plating is done fully automatically with a vertical plating line. Panel parameters like size, copper area and smallest structures are automatically converted into optimized plating currents and diving time for each tank. This ensures a homogenous copper distribution over the complete board. Several cleansing and processes ensure that chemical carry-over is minimized and all tanks remain clean and in perfect condition.
The automation of the machine allows our staff to focus on analysis and process control rather than on the plating steps themselves. This assures a high level of reliability and quality in our plating line.
Multilayer Lamination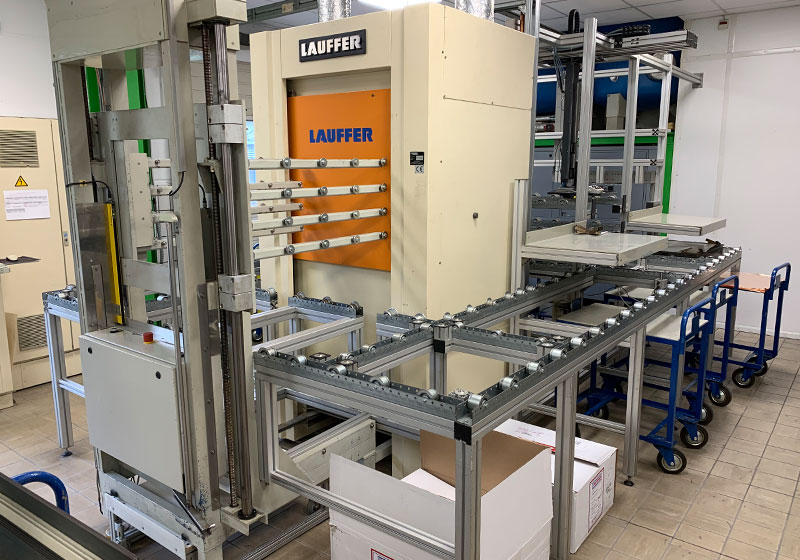 Multilayer lamination is done with modern computer controlled HML-lamination presses built in 2014. Depending on the materials, custom-designed lamination cycles are saved and loaded easily. The vacuum chamber removes any air in the stack so that the adhesion of multilayers is optimized. A separate cooling press allows high through-put while saving energy at the same time. Currently, we manufacture multilayers up to 24 layers.
Furthermore we can laminate a wide range of special materials, hybrid-stack-up, flexible and rigid-flexible materials such as polyimide. The automatic recording of all press parameters allows easy quality control and dependability in the process.
Cleaning & Solder Mask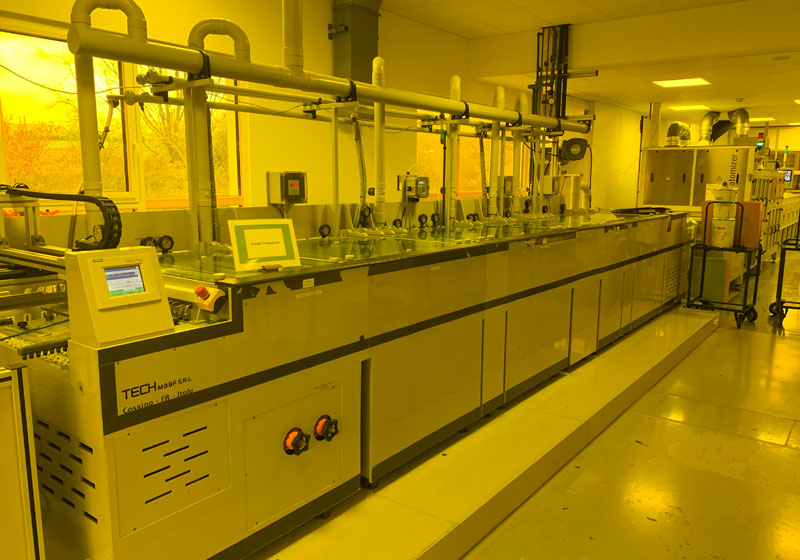 Before solder mask application alls PCBs are chemically cleansed in a horizontal line. The Schmied line has been customized and optimized in 2014 together with the US-American chemical company OMG. A chemical cleansing process prior to solder mask is superior to a mechanical process because already existing copper features are treated more carefully. Solder mask application is then done with a highly efficient curtain coater, which has far higher productivity and more stable quality than common silk screen printing methods. On a curtain coater all panels are driven through a curtain of laquer with very high speed so that the laquer is distributet evenly over the whole panel. Directly behind the curtain coater a evaporation line and horizontal pre-baking oven follow.
E-Test & Final Quality Control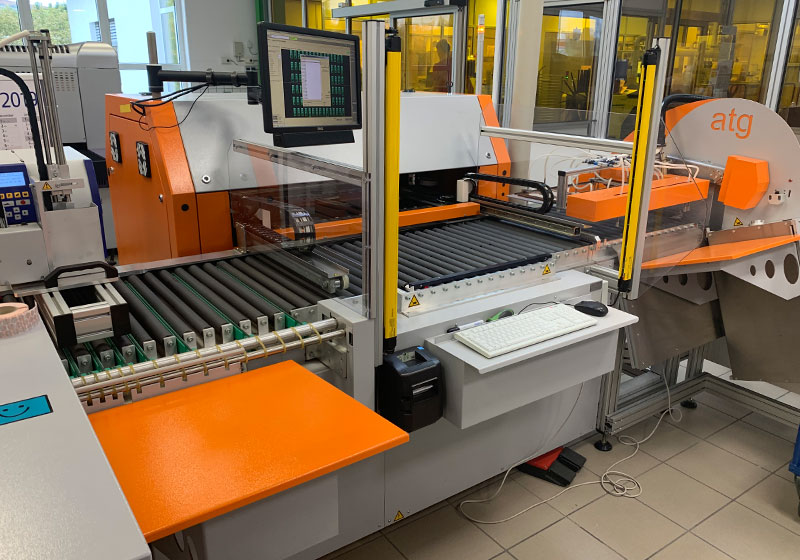 All 2-layer and multilayer PCBs at LeitOn are 100% electrically tested before shipment. Two flying probe test machines from Gardien are in use.
Soft-touch-needles can be used when bond-pads or very small fine-pitch pads are tested, so that a minimum amount of pressure is on the structures and leaves them intact. Using microscopes we control surface finishes and via-drill x-sections
Routing & Scoring
Final routing is done according to the requirements on a variety of machines. If needed, one of the above mentioned Schmoll-dual-head-machines with camera positioning systems is selected. This allows highest precision on most modern levels by exactly aligning the routing path to copper structures on the PCB. For scoring a 2013 CNC-controlled Löhr & Hermann jump-v-cut machine is used.
Jumping or "skipping" sections in scoring-path is useful for complex printed circuits. Aluminium-IMS circuit boards can be scored with diamond-toothed scoring blades, too.
---
more impressions