LeitOn - The Company
Name
Type
Size
Download
LeitOn contact details

(118,58 KB, PDF)

PDF
119 KB
Download
LeitOn Product Overview 2023

(1080,85 KB, PDF)

PDF
1081 KB
Download
LeitOn Product Overview 2023

(3698,37 KB, PDF)

PDF
3698 KB
Download
LeitOn GmbH ISO 9001:2015 Certificate

(139,46 KB, PDF)

PDF
139 KB
Download
LeitOn GmbH ISO 14001:2015 Certificate

(139,41 KB, PDF)

PDF
139 KB
Download
The company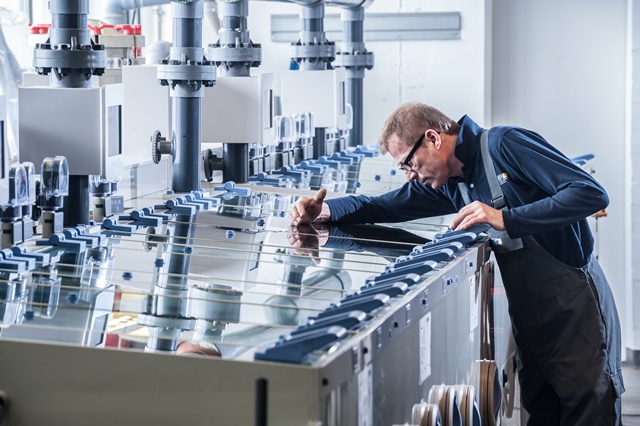 LeitOn stands for a combination of the German word for PCBs, "Leiterplatten" and "Online". Our company was established in 2004. The concept is based on an extended and convenient online calculation for all kind of printed circuits. Special technologies as well as express quick-turn services are available online - mostly Made in Germany. For higher quantities our own staff in China takes care of your mass production printed circuits.
LeitOn currently employs around 20 employees in Berlin, Germany. We offer printed circuit board prototypes in express service up to 24-layer multilayers. A highly qualified CAM-team inspects and optimizes all files intensively before going into production. Our friendly, fast and competent sales team prepares easy-to-read quotations for you, from one prototpye up to call-orders, price-matrix and packages for multiple layouts. If you would like to meet us in Person, you are welcome to visit us Berlin, on a range of exhibitions or at your own facilities.
Mass production are handled by our subsidiary in China with currently around 20 employees: quality manager, project manager, logistics manager, assembly technicians and quality inspection staff. Our direct presence on the Chinese market with a local team assures that quality control and packing requirements are implemented according to German standards reliably. Personal contact with our suppliers and a team of Chinese technicians, engineers and even a doctor take care of the necessary "guanxi" (chinese for "relationship").
What our customers say
From 174 participants in our 2021 quality survey:
99% good to very good availability
99%

good to very good

response time
98%

good to very good order

processing/transparency
98%

good to very good

product range
96%

good to very good

dependability
99% good to very good quality
"You offer a really good service. Whenever something in the documentation is unclear or there is something wrong with my layout you immediately inform me. This already saved me money. I like that a lot. Yes, I'm a happy customer! :-)"
Eric Scheer, SIEMENS AG
"You can always reach someone, really perfect!!! We NEVER had quality problems with LeitOn. Therfore, our rating is "very good" all over! ALso the way how surplus-production is handled is exemplary. Many German PCB manufacturers jsut deliver 10% more as a "standard". LeitOn explicitly asks every time, whether additional PCBs are desired. As German supplier, LeitOn is our number one."
Mathias Berger, Global Components GmbH
"If it happens that something is not available online, you get a very fast. You always receive competent replies about feasibility and advice for your layout preparation. Very little delays, and if, you always get informed."
Stephan Badur, Stefan Badur Electronic
"Quotations always arrive within maximum 1 to 3 hours, while competitors often need 3 days. Requests for stencil or panel files are handled quickly. The online ordering forms are very well arranged."
Franz-Josef Rebbe, COMPRION GmbH
"I received a call because of some irregularities in my layout. This way an otherwise expensive "fail" was avoided. Perfect!!"
Carsten Schilling
"We had some text in our solder mash that was overlapping with some traces. We were informed that this may cause problems later. LeitOn direclty corrected the layout so no time was lost."
Reinhard Enne, Technische Universität Wien
"If you can produce it, the CAM department will take care of it without insisting on formal design rules (DRC)"
Ulrich Heinze, MT.DERM GmbH
"There has never been anything late."
Theo Wolf, EuroSync GmbH
---
History
2021

LeitOn becomes climate neutral - since 2021 we have been offsetting the CO2 emissions of all printed circuit boards we supply. This includes not only the electricity consumption, but also the CO2 emissions of the necessary raw materials such as copper, epoxy and fiberglass. Of course, transport should not be forgotten either...

2021

LeitOn moved into new, modern office space. Even better to reach, right in the heart of Berlin. LeitOn's team of printed circuit board experts has been growing steadily and the old offices ran out of space to acccomodate eben more people.

Read more
2020

Permanently cheaper and fairer prices based on more transparent calculations – the online calculation for prototype PCBs was completely renewed.

2020

Rogers 4360G2 completes the Rogers 4000 series in our high-frequency printed circuit boards - PCB - online calculation.

2020

Black FR4 base material is available online. This material does not only "look cool" but it offers advantages for sensor applications due to its opaque nature.

2020

Ventec VT-901 high-TG-PCBs (TG250°C) are available in our online calculation. As of today, no other PCB manufacturer offers such super-material online.

2019

Rigid-flexible printed circuits in our online calculation now include flexible inner layers. This makes LeitOn to the leader of rigid-flexible boards offered online, also offering substantial discounts compared to competitors.

2019

LeitOn moves its quick-turn prototype production and medium series production Made in Germany to a partner factory in Western Germany which is equipped with high-tech machinery and processes.

2018

LeitOn takes part in the Electronica 2018 exhibition.

2018

Copper-IMS PCBs are available in our online calculaiton. As a special, you may add thermal-blind-vias to contact the copper carrier directly with plated holes.

2018

Rigid-flex PCBs are now available in our online-calculation. You can calculate 2-, 4- and 6-layer rigid-flex PCBs with one flexible outer layer.

2017

Rigid-flex PCBs are now being produced in a wide range. This "top of PCB" technology underlines the technological development of LeitOn over the recent years.

2017

Impedance calculation and impedance measurements are now available, also in our online calculation. This rounds up the offer of our high-frequency materials.

2016

Semiflex PCBs are available online. Through precise depth-milling parts of the PCB are made flexible for installation purposes. This replaces connectors or more expensive rigid-flex PCBs.

2016

Megtron6 material from Panasonic is available in our online calculation. This material is an attractive alternative to Rogers materials.

2016

LeitOn passes ISO 14001 environmental certification of TÜV Rheinland. Investing in measurement equipment, microscopes and impedance testing equipment allows ever more complex test reports for increasing quality requirements. A plasma etching machine is introduced for optimized Polyimide and PTFE material preparation.

2015

FPC express online calculation for flexible printed circuits made in Berlin is introduced. LeitOn established worldwide leadership for flex circuit online calculations. Investing in fully automated e-test equipment and inkjet printer to speed up cycle times while improving quality.

2014
With an investment quota of over 25% LeitOn is pushing to become one of the technology leaders in German PCB production. Rigid-flexible printed circuits and high layer multilayer PCBs up to 24 layers are possible with the investment in direct imaging technolgy. New multilayer-lamination machines increase capacity, lower engery costs and allow precise baking procedures for hybrid-stack-ups thanks to electronically controlled programming.


Market leadership in printed circuit board online calculation extends even further by offering Rogers-HF-PCBs, double-sided aluminium-core IMS-PCBs and up to 14-layer multilayers with a wide range of special options in our online calculation.

2013
Mr. Mario Gehrau is taking over LeitOn's technology management. His longstanding experience in one of the leading German PCB suppliers make him the perfect match for this position. He will take on quality imporvements, technology developments and process implementations for improved reliability.


LeitOn invests in a new jump-scoring machine and a Schmoll doulbe-head-drill-routing machine. Extremely precise routing with camera adjustments and target-z-axis routing are now possible.

Several special projects like integrated stainless steel in a 9-layer multilayer, 4,2mm thick doulbe-copper core multilayer for improved heat management, multialyers with integrated coils, several z-axis-projects with milling for contacting inner layers have been successfully manufactured.

LeitOn is now UL-certified for a variety of laminates.

2012

The SMD-stencil online calculation introduces many new options, including our LeitOnSparFix-stencil in A4-size for only 29,- Euro. Standard-stecils like Quattroflex/Stencilman, Zellfle, DEK/Alpha-Tetra/Micromount, VectorGuard and Metz are also available in our online calculation. Customization like edge guards and nano coating are also available online.

Single layer Aluminium-IMS PCBs are available online. LeitOn offers way more options for material thickness, copper thickness and thermal conductivity, such as 1,3 W/mK or 3,0 W/mK than the competition.

2011

Express-Medium-Production is available as "Turbo-M-Series" with up to 2,5m² PCB area within 5 days - Made in Germany!

A free online tool "PCB-Toolbox" is available on our webseite and as iPhone-App. Layout designers, engineers and purchasers can find useful functions to estimate printed circuit board related questions such as: trace heating, heat management with aluminium and impedance estimations are only some of the possibilites.

2010

A new slogan "count on best service!" and a new logo reveal LeitOn's focus: wide range of options, fair priced and exceptionally fast response times.

2009

The team in Berlin expands further. New office space is leased and we launch a vocational training program for an industrial business management trainee.

Our team in China now consist of ten people who check and coordinate mass production printed circuit boards directly on site.

2008

LeitOn positions itself in the area "Service & PCBs". Inquiries are processed at exceptional speed and customers all over Europe are enthusiastic.

Continuous strong growth results in LeitOn employing 9 people in Berlin by January 2008. In Hong Kong and China LeitOn now employs 7 people. LeitOn is DIN EN ISO9001:2000 certified

LeitOn introduces new options in our online PCB calculation like 0.20mm drills, blind-vias and panel production based on you drawings.

2007

LeitOn expands its service enormously. The Ocean concept offers a wider range of options. 12-hours quick-turn prototypes, medium volume series up to 4m², flexible printed circuits online, SMT-stencils and much more is available online.

Additional product areas are introduced, making LeitOn an all-around service provider in the electronics sector. Assembly for mass production can be offered on request, as well as layout design service.

2006

LeitOn continuous to grow and opens a branch in Hong Kong in order to optimize sourcing from China. All products are RoHS/WEEE compliant and fulfill the latest environmental standards.

The team in Germany grows to eith employees. After just a short time 5 people are working for us in Hong Kong and China.

2005

Additional services are added to our portfolio. PCB mass production from China, PCB prototype assembly in Berlin, various special productions, PCBs with aluminum cores or carriers, thick copper and for high frequency functionality.

09/2004

Happy Birthday! www.leiton.de goes online! Founded by two students, Christoph Kendler and Marcus Knopp, the first orders calls are answered during lectures in university.
Numbers & Facts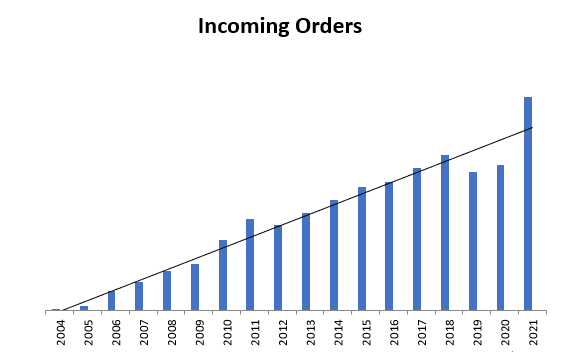 Revenue Development
LeitOn experienced a 46% increase in incoming orders in 2021 with EUR 7.07 million and was thus again significantly better than the competition in an industry comparison. Even better customer care will be decisive for growth in 2022. The increasing number of series and assembly projects also contributes to constant growth. The possibility of framework orders for series with warehousing at LeitOn increases the convenience for our customers in the long term. In this context, we expect further growth across all technologies
Customer Base
LeitOn currently has around 2000 active customers. The aim is to maintain this level in 2022 through personal relationships, the further development of existing services and the associated recommendations from our customers. Growth in 2022 should again take place through intensive, personal cooperation with our customers. We would like to take this opportunity to thank you for your trust!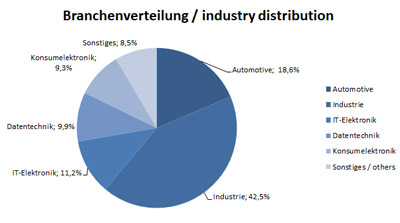 Industry Composition
LeitOn serves a broad spectrum of industries with various PCBs. Industrial electronics continue to remain the main driver of LeitOn's business growth. IT and Automotive are consolidating on a high level, thanks to successful quality initiatives.